Literature
Sri Lankan Literature is rich with classics and modern books which make the readers' third eye open with knowledge and wisdom broadening their vision and the mindset towards a better outlook of their own life.
Sri Lankan literature goes back towards a long history, starting from Anuradhapura era when the civilization began which was the first kingdom of Sri Lanka and rich in harvest.
Pansiya Panas Jathakaya
This book is one of the important literary works in Buddhism which includes "Five Hundred and Fifty Jataka Stories", one of the most popular works in Sri Lankan literature and the Eastern literature. It is also a book that contributes a lot to the advancement of Sri Lankan literature. The stories of the Jathaka Katha has paved the way for all the arts forms in Sri Lanka viz, novels, poems, songs, drama, cinema and etc.
Amawathura
Amawathura is another famous religious book written by Gurulugomi. It is mentioned at the end of the book. 'Ama' is the name for Nirwana, 'Wathura' is a name for the water that flows and spread. That is the name 'Amawathura' is formed by the combination of two. The Period of writing Amawathura is considered to be the last period of the Polonnaruwa period. It can be stated that the Amawathura book was published to expand the virtue of Purisadammasarathi quality of the Lord Buddha.
Guttila Kawya
Guttila Kawaya is written by Weththewe Thero. Guttila kawya is a book of classical poetry of Sri Lanka. The Guttila poem is the second of the two books of poetry written during the Kotte period based on Guttila Jataka story.  It contains over 511 poems explaining a great competition which took place between Guttila and Musila (Teacher and Student). The Guttila poem, which is believed to have been written during the region of King Parakramabahu VI, has been highly regarded as a unique work in the history of Sri Lankan literature and as a highly interesting treatise on Sinhala poetry. Selalihini Sandeshaya and Parevi Sandeshaya are also famous poems.
The 19th century is the modern Sri Lankan Literature  era when the  Sandesha Kawya, kanda Kawya and bana katha as well as modern literary forms such as short stories and novels. Critics also identify the period following the western literary models beginning in the 19th and 20th centuries as the modern period of Sinhala literature. However, modern Sinhala Literature can be considered as an extension of ancient literature including Jataka Stories, Bana stories and ancient Sinhala poetry.
Among the pioneers of Sri Lankan novelists Piyadasa Sirisena, W.A.Silva, Martin Wickramasinghe was stand out. Gunadasa Amarasekara, G.B. Senanayaka, K. Jayathilake, Simon Nawagattegama and Tennyson Perera further developed it. Meena by A.Simon de Silva is considered to be the first modern novel in Sinhala literature.
Martin Wickramasinghe, W.A. Silva and Hemapala Munidasa are the pioneers of Sinhala short story. Vahallu by Martin Wickramasinghe is considered as the first collection of Sinhala short stories. G.B. Senanayake, Dayasena Gunasinghe, Jayathilake Kammellaweera and Ajith Thilakasena are some of the later short story writers. G.B. Senanayake and Siri Gunasinghe marked the beginning of the tradition of free verse (Nisades) in Sinhala poetry. Sri Lankan writers seems to be inspired by their ancient classical literature as well as modern Western literary trends.
Martin Wickramasinghe
Lama Hewage Don Martin Wickramasinghe was a great novelist in 20th Century. He was a great scholar of Sinhala literature. Wickramasinghes Literary career began with novel Leela in 1914. His work has been translated in several languages similar as English, Russian, Tamil, Hindi, Dutch, German, French, Japanese and among many others. There's no question that the heritage that this authorship has left for his country and his culture will be remembered for much further time from now to come.
Lama Hewage Don Martin Wickramasinghe was born on 29th of May 1890, In Koggala. The land Koggala considered of a large rock on one side and a steam of water surrounded by tributaries of the Koggala Oya on the other. And it is no secret that the living condition and cultural characteristics of the people who lived here influenced in his later writings.  He was the only son of Don Bastian Wickramasinghe and Magalle Balapitiya Liyanage Thochchohamy. In 1895 He learnt first Sinhalese alphabet from Andiris Gurunnanse and in 1900 he started his formal education in school of Bounavista School in Galle. After two years he went to the Sinhala medium school in Ahangama.
He died in 1976 and he has remained one of the most known and widely recognized Sri Lankan authors.
Martin Wickramasinghes some of publications,
Novels
Leela
Soma
Irangani
Seetha
Miringu Diya (Mirage)
Unmada Chithra
Rohini
Gamperaliya (The Uprooted/ Changing Village)
Madol Doova (Mangrove Island)
Yuganthaya (End of the Era)
Viragaya (Devod of Passions)
Kaliyugaya (Age of Destruction)
Karuvala Gedara (House of Shadows)
Bhavatharanaya (Siddhartha's Quest)
Collections of short stories
Geheniyak (A Woman)
Magul Gedara (The Wedding)
Pavkarayata Galgaseema (Stoning the Sinner)
Apuru Muhuna (The Strange Face)
Handa Sakki Kima (The Moon is Witness)
Mara Yuddhaya (Mara's War)
Mage Kathawa (My Story)
Vahallu (Bondage)
Plays
Literary criticism
Shastriya Lekshana (Educational Essays)
Sinhala Sahithya Katha (Sinhala Literary Essays)
Sahithya Shiksha 1
Sahithya Shiksha 2
Vichara Lipi (Literary Criticism)
Guttila Gitaya 1
Sinhala Sahityaye Negima
Sinhala Sahithye Nagima (Land Marks of Sinhala Literature)
Sahithya Kalawa (Art of Literature)
Kavya Vicharaya (Sinhala Poetry: A critical Review)
Attta Yutta (Essays in Literature)
Bana Katha Sahithya (Buddhist Folk Literature)
Bana Katha Sahithya (Buddhist Folk Literature)
Nava Padya Sahithya (Modern Sinhala Poetry)
Rasavadya Ha Bauddha Kavyaya (Aesthetics and Buddhist Poetry)
Sinhala Vichara Maga (Sinhala Literary Criticism)
Navakathanga Ha Viragaya (Literary Aspects of Buddhist Jataka Stories)
Sinhal Nawakathawa Ha Japan Kama Sevanella (The Sinhal Novel in
the shadow of the Japanese Erotic Novel)
Sinhala Natakaya Ha Sanda Kinduruwa (Sanda Kinduru and Sinhala Drama)
Sampradaya Ha Vicharaya (Tradition and Criticism)
Vyavahara Bhashawa ha Parinama Dharmaya (Contemporary Sinhala and
its Evolution)
Mahagama Sekara
Mahagamage Samarasekara is born on 7th April 1929 in Radawana, Colombo. He was the only son of Maha Gamage Jhon Appuhami and Ranawaka Arachchige Rosalin.  Mahagama Sekara is considered to be one of the foremost artists of Sri Lanka. He is known as a Poet, Songwriter, Novelist, Shor Story writer, Playwriter and Film director. He made a special mark in the art of Sinhala poetry.
He started his Education in a Government school in Randawana in 1934. Then he entered to the Government College of Fine Art in 1948. Finally, he entered to the Teacher training school in Nittabuwa in 1950. In 1952 he got appointed as a Sinhalese trained teacher. In 1981 The University of Jayawardenapura awarded him the Degree, Doctor of Philosophy (PhD).
He died in 14th January of 1976, and it is still considered as a great loss to Sri Lankan poetry and literature.
Mahagama Sekara's some of publications,
Poetry
Bodima
Heta Irak Payai
Maknisadayath
Maranaya
Nomiyemi
Prabudda
Rajathilake Lianel and Priyantha
Sakwa Lihini
Vyanga
Novels
Thun Man Handiya
Mrono Mandiya
Nomiyemi
Short Stories
Peethara
Man Thananno
Pungna
Meeya
Gunadasa Amarasekara
Gunadasa Amarasekara born on 12th of November 1929 in Yatalamatta in Galle District. Father was a Sinhalese Doctor and Mother was a teacher. He studied at Mahinda college Galle and Nalanda College in Colombo. He was graduated from the university of Ceylon and a dentist by a profession. And also, recipient of a doctorate for his literacy service.
Gunadasa Amarasekara is an outstanding novelist born in Sri Lanka. A short story Writer, poet, a critic, a thinker and an essayist. Amarasekara was one of the founders of Peradeniya Gurukula, which has attracted much attention in modern Sri Lanka literature. He was a controversial figure in the literary world because of the subject matter and writing style of his work. Gunadasa Amarasekara who later become self-critical in his original creations and literary philosophy through works such as Gandhaba Apadanaya began to create with a new version.
In 2009, the Nalanda College where he studied awarded him the Nalanda Keerthi Sri Award, the most important alumnus in Nalanda.
Gunadasa Amarasekaras some of publications,
Novels
Karumakkarayo
Gamanaka Mula
Gamdoren Eliyata
Depa Noladdo
Yali Paminiyemi
Asathya Kathayak
Inimaga Ehalata
Premaye Sathya Kathawak
Duru Rataka Dukata Kiriyaka
Vanka Giriyaka
Short Stories
Rathu Rosa mala
Jeevana Suwada
Ekama Kathawa
Katha Pahak
Gal Pilimaya saha Bol Pilimaya
Marana Manchakaye Dutu Sihinaya
Poems
Bhaavageetha
Uyanaka Hinda Litu Kavi
Amal Bisso
Gurulu Watha
Avarjana
Aska Da Kava
Literary Criticism
Vicharaya saha Vinodaya
Aliya Saha Andayo
Abuddassa Yugayak
Anagarika Dharmapala Marxvaadida?
Ganaduru Madiyama Dakinemi Arunalu
Arunaluseren Arunodhyata
athika Chinthanaya saha Jaathika Aarthikaya
Sinhala Kawya Sampradaya
W.A Silva
Wellawattarachchige Abraham Silva born on 16th January 1890 in Pamankada, Colombo. He was the eldest son of W.A. Hermanis Silva and Moro Nona. He received his early education at St. Pauls Milagiriya. After Completing his formal Sinhala education, at the age of 17 he wrote his first novel 'Siriyalatha'. He studied Sanskrit and Sinhala under the late Sri Vajiragnana, and then He worked as a cleck.
W. A. Silva is best known as a novelist, furthermore his contribution to the popularization of Sinhala short stories should be appreciated. In addition to being a writer, he was also a newspaper editor and magazine editor. His second novel 'Lakshmi' was published in 1922.
Lakshmi' was followed with a series of other novels such as 'Hingana Kolla' (The beggar boy), 'Pasal Guruwari' (The School Mistress), 'Deiyanne Rate' (The land of gods) 'Sunethra' nohoth Avicharasamaya' (Sunethra or the Reign of Terror), 'Daivayogaya' (The intervention of Destiny), 'Vijayaba Kollaya' (The Assassination of Vijayabahu), 'Kelehanda' (The Wild Moon), 'Radala Piliruwa' (The puppet of fendal) etc. W. A. Silva was also the author of several short stories, detectives, plays and books on various other topics.
As a translator, he translated a portion of the 'Arabian Night' into Sinhala under the title 'Ekdahas Ekraya' and Sanskrit poem 'Ramayanaya'- 'Valmuki Ramayanaya'. He also published 'Sirisa', 'Nuwana' and 'Thilaka' as a newspaper editor and he was the editor of 'Lanka Samaya' magazines.
He died on 3rd of March 1957. After his death, Wellawatta High Street was named as W.A. Silva Mawatha.
W.A. Silva's some of publications,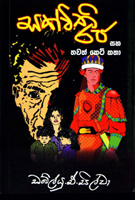 Siriyalatha
Lakshmi
Hingana Kolla
Pasal Guruvari
Deiyange Rate
Kale Handa
Daivayogaya
Sunethra
Vijayaba Kollaya
Radala Pilliruwe
Handa Pane
Julihatha
Ridihavadiya
Lensuva
Sakvithi Raja
Amurtha Hasthaya
Dalakumar
Arabian Night (translation)
Maya Yogaya (Play)
Ramayanaya (translation)
Punyakanthe Wijeinaike
Punyakanthe Wijeinaike was born on 1933, in Colombo. She was the daughter of Justin Kothalawala and Millcent de silva. Punyakanthi is best known as a Sri Lankan writer of fiction, short stories, poet and anthologies. Her writing is recognized for its simple yet powerful style, which holds the reader's attention. Her first collection of short stories was The Third women in 1933.
Her novel 'Giraya' was the most popular novel and it adapted in to a teledrama by Independent Television Network of Sri Lanka. It was her significant acknowledgement in both local and international literary circles.
She was awarded women of Achievement award in 1985, Kala Suri class 1 (literacy achievement) conferred by the Government of Sri Lanka in 1988. In 1994 she won the Gratiaen Prize for her novel 'Amulet'.
Punyakanthi Wijeinaike's some of publications,
The Third Women
Missing in Action, Sunset years
An Enemy within, Uncovers
Giraya
Amulet
The Waiting Earth
When Guns Fall Silent
The Rebel
That Deep Silence
To Follow the Sun
Anoma
Unbinding: A Story of Rebirth and other stories
The Betel Wine