The culture differs from country to country. Our country is filled with its regional flavors while the cuisine is known for a rich combination of rice specialties, spices, herbs, seafood, seasonal vegetables and fruits and of course, legumes. The tastes and also the smells of Sri Lankan food could be a truly satisfying experience and the unique blend of local spices and coconut milk used for traditional culinary sets Sri Lankan cuisine aside from other traditional Asian cuisine.
Sri Lankans had rice and other cereal for the main food. additionally, to the main stable, they had to produce other food items like meat, fish, eggs and vegetable. In ancient Ceylon, there are number of methods in relevance cooking rice. they will be identified as rice gruel, milk rice, tempered rice, ambul bath, cooked rice with bee honey, cooked rice with ghee, and cooked rice with spices. Among the other types of cooked rice, rice mixed with cereal, tempered rice with vegetable, rice kept in water and mixed with onion, chilies, coconut milk, juice, salt water, etc, sunsahal rice, yellow rice, rice mixed with mung bean, agiti hal rice and kudu bath were important. Many of these kind dishes are centered around the main staple rice, rice flour and coconut while seafood also plays quite important part in Sri Lankan cuisine. Most Sri Lankans prefer vegetable curries while the most go-to meal in any a part of the island is that the good old "Rice and Curry". The curries have immense flavor and colour which are derived from a list of Sri Lankan Hot Spices. These spices not only add great flavor to the food but also adds ayurvedic value to the dish. Rice being the staple diet, locals consume it daily, and most often, at all three meal times and both the red and white varieties are popular. Sri Lankans serve their rice with fish or meat -based dishes and other kinds of vegetable curries. There is also a famous dish known as "mallung" which are chopped leaves cooked with grated coconut meat and red onions. For special occasions, especially religious occasions, rice is boiled in thick coconut milk to make a creamy textured rice pudding called 'kiri-bath' of soothing delectable flavor.
Sri Lankan's spicy curries are generally consumed with the staple rice or with other bases like 'Hoppers', 'Roti', 'Pittu' and 'String Hoppers'. Meats, fish, vegetables and even eggs are prepared with local spices and coconut cream. Onions, green chillies, black pepper, cardamom, cloves, cinnamon, saffron, garlic, ginger, curry leaves, herbs and nutmeg are providing the different flavors and aromas. A complete rice and curry meal, which has a meat or fish curry, two or three different vegetable curries, dhal curry, and a 'mallum' made from chopped leaves and coconut, makes the most scrumptious course.
Rice and Curry
Rice is considered as staple Food of sri lanka while there are over 10 types of this cereal grain which is widely consumed on a day to day in many households. From tiny white "Samba" rice to the long grained "Basmathi" rice, and many Red Raw Rice specialties, Sri Lankans have been dependent on this staple since the golden era of mighty kings and warriors who managed to flourish the land with crops and various commodities.
Rice and Curry which is referred such as National Dish of the island, has a kind of mouthwatering accompaniments which can keep your taste-buds dancing to a rhythm of fiery desire. The curries usually contains one meat or fish dish which is sort of spicy, two or three types of of vegetable curries, a mallum (a mixture of finely chopped green leaves mixed well with grated Coconut, lime and salt) a spicy sambal or chutney and at last a papadam (a thin fried wafer)
The curries should ideally contains a gravy in order that the rice is well amalgamated with the rest. All of these dishes are quite spicy but there are mild yellow curries such as "Dhal" or "Potato" that are infused with Coconut Milk so that the flavors are well balanced. Sri Lankans are famous for incorporating their herbs and Spices while sliced onions, green Chillies, Cinnamon, Black Pepper, Cloves, nutmeg, Cardamom, saffron, Curry Leaves, Tamarind paste, Ginger and Garlic are used to add more punch and flavors in the cooking.
While fish and Chicken are the most forms of proteins used, some prefer tempered dried fish, fish cutlets or eggs. Vegetarians are certain a treat since the seasonal local produce offers such as mouthwatering vegetables like Jack Fruit, bread fruit, banana flowers, beans, okra, Brinjals or maybe Fruits that are cooked into chutneys and curries like mango and ambarella (June Plum).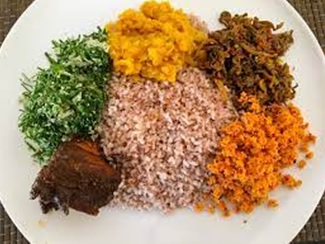 Dhal Curry
A Sri Lankan dal (dhal) curry is simple and quick to cook. This is made with dal flavored with coconut milk, Curry Leaves and spices. It's vegan, gluten-free and high in protein.
Dal or parippu is the staple in Sri Lankan cuisine. It's such a simple dish but packed with flavors. It is eaten with Rice and Curry, Coconut Roti, naan roti.
If you're aware of Indian dal, you'd be surprised to understand that this dal is prepared a similar way but with different flavors. We use Coconut Milk and temper with curry leaves.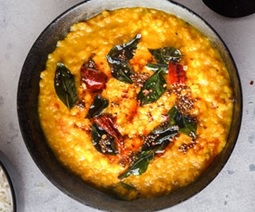 Baby jackfruit curry
A staple and also consumed as a main source of carbohydrate, the jackfruit is enjoyed from its tender age and also when its ripe and juicy. Loved by natives and popular among foreign visitors, the Fruit isn't only a source of energy but also the right meal for vegans or anyone trying to find a gluten free option. The ever-flavorsome Polos Curry because it is known in Sri Lanka will be enjoyed with a plate of steamed rice and a sambal. The local Spices and also the coconut milk which are infused within the dish adds the flavor while the ingredients may differ according to family secrets that are passed on.
Kiribath
A true Sri Lankan classic, "Kiribath" or Milk Rice is that the Westerners call it, is that the traditional breakfast dish also as a celebratory treat for special occasions. In some Asian cultures including Sri Lanka, milk and rice is that the significant symbol of prosperity, luck and happiness in abundance.
Milk Rice is particularly cooked during the Sinhalese New Year and various festive and auspicious occasions, while locals even have the tradition of cooking this creamy mild flavored rice cake on the primary day of each month.
Kokis
A crispy, deep fired Sri Lankan treat that's well known to create rounds during the Sinhala and Tamil New Year and any celebratory event, "Kokis" is just made from rice flour and Coconut milk which are widely available here.
Kokis mold's which are iron crafted are available in Sri Lanka while the main common shapes are butterfly, flower and wheel shaped ones. The most important task is to take the right consistency of the batter which should be thicker than a pancake mix. The reason is so the mold is well coated with the batter and fried into perfection.